Nepcon 2017: Review and Trends from Japan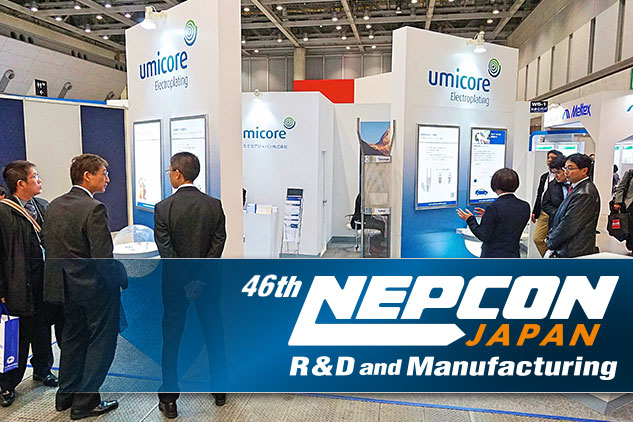 Over 100,000 Nepcon visitors can confirm our presence in Tokyo in mid-January. Such a high influx of visitors in just three days highlights the continued significance of this show.
According to Katsushi Yasumura (head of Umicore EP in Japan), the topics covered at the Umicore stand were varied. In his opinion, the following products and processes are currently on trend and were, therefore, discussed most frequently:

Increasing Interest in Hard Silver in the Automobile Industry
It was also noted that hard silver has been gaining focus in the field of automobile electronics. Our ARGUNA® 630 GAM provides a great solution for many interested parties - using this hard silver electrolyte, we can achieve a significant increase in abrasion resistance through additives (even after thermal ageing).


Umicore EP at Industry Trade Shows
Whether it's product presentations, sharing experiences or discussing targeted solutions for your challenges - regular interaction with you is important to us. That's why you'll only ever see experts manning our stalls and stands. Come and visit us (overview of trade show dates) - we look forward to a friendly discussion with you.