 Umicore Sealing 691 EL
Protection for technical precious metal surfaces
Umicore Sealing 691 EL is a perfect all-rounder to protect technical precious metal surfaces including electrical contacts. The coefficient of friction will be reduced enormously, the sliding performance of connectors will be improved, and even under strong mechanical stress, the functional layer is protected for much longer. In addition, Umicore Sealing 691 EL prevents tarnishing and discolouring. Silver surfaces treated with Umicore Sealing 691 EL as a final layer produce outstanding results in K2S tests.

There are no disadvantages in using Umicore Sealing 691 EL: Electrical characteristics are unchanged, and solderability and contact resistance are unaffected. In addition, Umicore Sealing 691 EL is easy to use: either in a simple dipping process or by electrolytic application for very short contact times in reel-to-reel plating. Finally, Umicore Sealing 691 EL is free of chromium and doesn't contain environmentally harmful substances like CFCs, CHCs and HCs.
Electrolyte characteristics
Aqueous, metalfree passivation
MMO (type PLATINODE® 187 SO)
Immersion time: Reel-to-reel
Immersion time: Rack/barrel
Coating characteristics
Protected parts remain bondable
Advantages
Especially developed for technical components like electrical contacts
Very short treatment times, making it suitable for reel-to-reel plating
Long-lasting protection against tarnishing and discolouration
Easy to use, both electrolytic and dipping process
Free of components like CFCs, CHCs, HCs and chrome
No influence on colour or brightness of the finished coating
Increased sliding performance, reduced insertion force
Provides high reliability in K2S test, therefore a perfect protection for silver layers
Applications
Connectors
Lead frames
Smartcards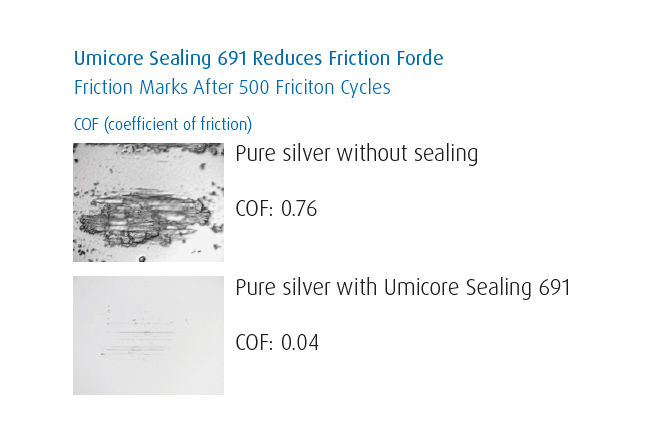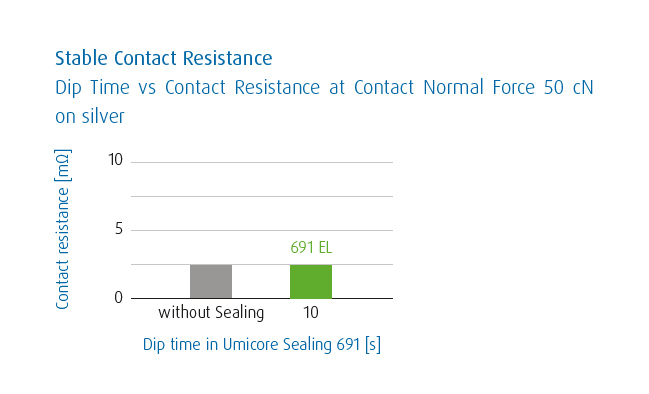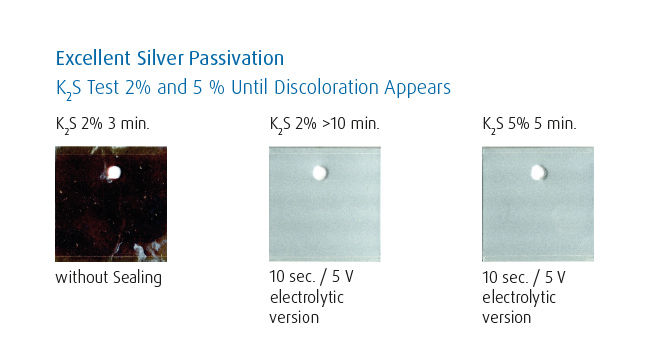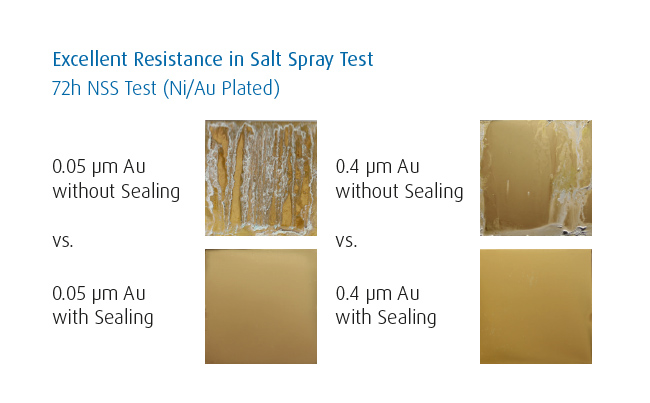 For inquiries and additional information
please contact
Umicore AG & Co. KG
Rodenbacher Chaussee 4
63457 Hanau-Wolfgang
Germany
Tel.: +49 (6181) 59 6005
Fax: +49 (6181) 59 2970
Email: chemistry@umicore.com
Website: www.chemistry.umicore.com
The information and statements contained herein are provided free of charge. They are believed to be accurate at the time of publication, but Umicore makes no warranty with respect thereto, including but not limited to any results to be obtained or the infringement of any proprietary rights. Use or application of such information or statements is at the user´s sole discretion, without any liability on the part of Umicore. Nothing herein shall be construed as a license or recommendation for use, which infringes upon any proprietary rights. All sales are subject to Umicore´s General Conditions of Sale and Delivery.