 Thru-cup® EVF-N Copper Via Filling Electrolyte
Additives for acid copper via filling
Thru-cup® EVF-N is a new additive system for electrolytic acid copper plating on PCB. It is used in panel and pattern plating technology for blind via filling and simultaneous through-hole plating. The blind via hole filling characteristics for holes with diameters less than 150 μm are excellent. Thru-cup EVF-N works with three additives which can be easily controlled by CVS. Via filling performance is not influenced by electrolyte ageing. The plated copper film has an excellent thickness distribution.
Application Features
Thermal management enhancement
Higher interconnect density in HDI PCB
Long term reliability of the assembly and packaging operation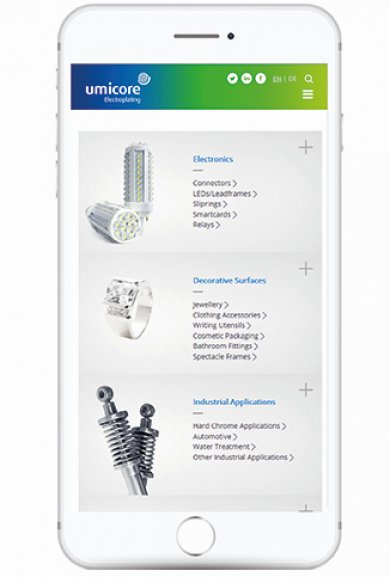 Electrolyte characteristics
Advantages
Excellent blind via hole filling characteristics
Suitable for panel and pattern plating with simultaneous through-hole plating
Long electrolyte lifetime
Excellent thickness distribution of the plated copper film
Concentrations of all additives can be analysed by cyclic voltammetry (CVS)
Applications
IT products
Consumer electronics
Automotive applications
Needed Additives and Optional Products
EVF-2A-10X
EVF-2B-2X
EVF-N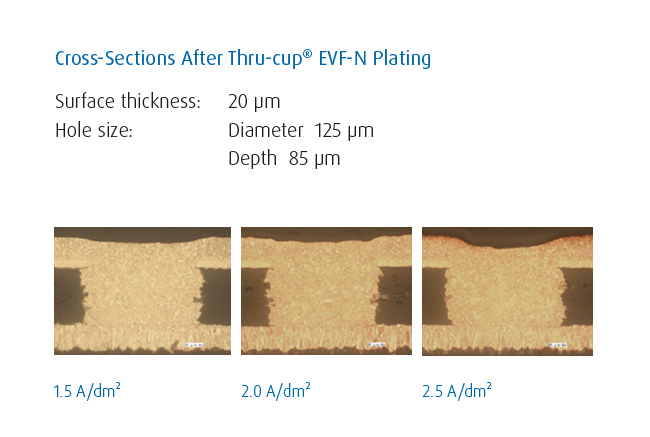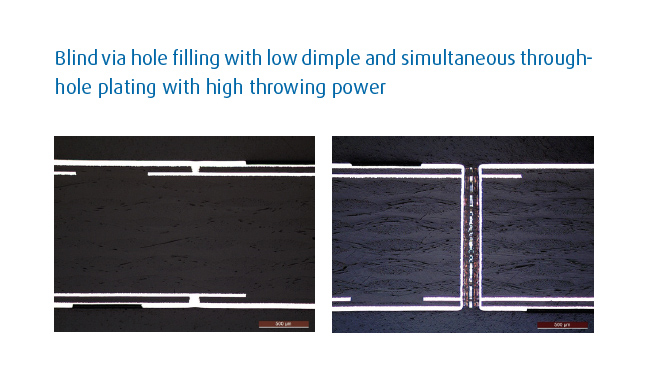 For inquiries and additional information
please contact
Umicore AG & Co. KG
Rodenbacher Chaussee 4
63457 Hanau-Wolfgang
Germany
Tel.: +49 (6181) 59 6005
Fax: +49 (6181) 59 2970
Email: chemistry@umicore.com
Website: www.chemistry.umicore.com
The information and statements contained herein are provided free of charge. They are believed to be accurate at the time of publication, but Umicore makes no warranty with respect thereto, including but not limited to any results to be obtained or the infringement of any proprietary rights. Use or application of such information or statements is at the user´s sole discretion, without any liability on the part of Umicore. Nothing herein shall be construed as a license or recommendation for use, which infringes upon any proprietary rights. All sales are subject to Umicore´s General Conditions of Sale and Delivery.