 PLATUNA®-Alloy 1 Platinum Ruthenium Electrolyte
Extraordinarily abrasion-resistant coatings – saving platinum
PLATUNA®-Alloy 1 is used for depositing smooth, ultra-bright and extraordinarily abrasion-resistant platinum-ruthenium alloy coatings. The acidic electrolyte is used for decorative applications and guarantees light, white layers - crack-free up to 1 μm.

PLATUNA®-Alloy 1 works across a wide operating range and reaches an excellent covering speed. It is used for rack operation.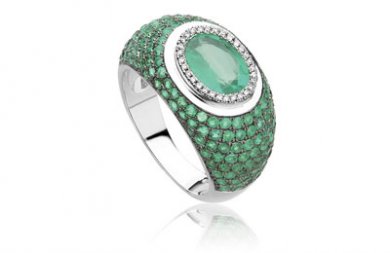 Electrolyte characteristics
1.0 (0.8 - 1.2) g/l Pt
1.0 (0.8 - 1.2) g/l Ru
Approx. 0.08 μm/ min at 2.0 A/dm²
MMO (type PLATINODE® 187 SO)
Coating characteristics
75 weight % Pt
25 weight % Ru
Not measurable, Approx. 500 HV
Advantages
Acidic platinum alloy electrolyte - saves expensive platinum
Light, white and ultra-bright coatings
For decorative applications
Extraordinarily abrasion-resistant
Wide operating range
Up to 1 μm layer thickness (crack-free)
The coatings are RoHS compliant
Suitable for racks
Applications
Jewellery
Writing implements
Watches
Spectacle frames
Accessories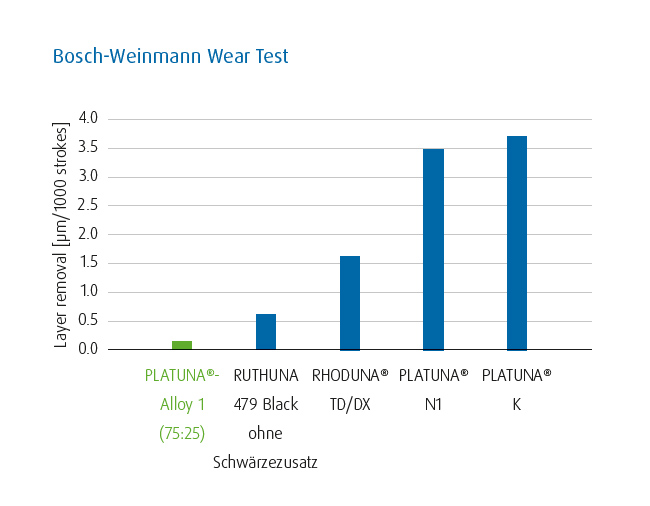 For inquiries and additional information
please contact
Umicore AG & Co. KG
Rodenbacher Chaussee 4
63457 Hanau-Wolfgang
Germany
Tel.: +49 (6181) 59 6005
Fax: +49 (6181) 59 2970
Email: chemistry@umicore.com
Website: www.chemistry.umicore.com
The information and statements contained herein are provided free of charge. They are believed to be accurate at the time of publication, but Umicore makes no warranty with respect thereto, including but not limited to any results to be obtained or the infringement of any proprietary rights. Use or application of such information or statements is at the user´s sole discretion, without any liability on the part of Umicore. Nothing herein shall be construed as a license or recommendation for use, which infringes upon any proprietary rights. All sales are subject to Umicore´s General Conditions of Sale and Delivery.